The UCSA receives funds through the student levy to help support clubs in the form of grant applications.
There are main categories of grants that clubs can be apply for:
Major Club Grant
Small Club Grant of up to $500.00
First Year Club Establishment Grant
All grants must be future focused, which means you cannot apply for a grant after the cost has already been incurred.
Grant Limits
The maximum that clubs can receive annually depends on the number of members they have:
20 to 70 members: Up to $2,000.00 annually.
70 to 150 members: Up to $4,000.00 annually.
150+ Members: Up to $6,000.00 annually.
Clubs or societies may receive up to four successful applications a year, or until they have reached their funding limit – whichever is reached first.
Please note that First Year clubs are limited to $500.00, irrespective of the number of members they have.
Major Clubs Grants
Major Club Grants can be used for a variety of reasons, including but not limited to:
Large events and activities, particularly those that contribute towards the creation of a vibrant, diverse, and engaging campus. Limited catering is supported.
Partial coverage of registration fees to help members participate in activities. This is not membership fees.
Activities that develop the executive or members' skill set.
Campaigns centred on students' issues, concerns, or causes.
Health and safety equipment or training.
Support student attendance at conferences and events, including sporting competitions, recognised by regional, national, or international organisations that are not related to academic study.
Small Club Grants
Small Club Grants are awards of up to $500.00, for relatively straightforward applications. These are the sorts of applications clubs frequently make such as:
Banners, flags, and other marketing materials.
Start-up costs for fundraising activities.
Small events and activities.
Minor equipment that can be monitored with an asset register.
First Year Clubs
First Year Club Establishment Grants are to help a club get up and running, and can be used for things such as:
Banners, flags, and other marketing materials.
Start-up costs for fundraising activities.
Small on-campus events and activities.
How to apply
First of all, ensure you have a purpose that can be granted by considering what you're wanting to apply for against the club grant policy.
Next, consider whether the amount you are looking to apply for is reasonable in comparison to the amount of funds the club or the attendees / members / beneficiaries of the grant are contributing.
In order to access the clubs grant application you need to be setup on the new UCSA website with the correct permissions to administer your club.
To apply for a grant on behalf of your club, log into the UCSA website and select Grant Applications from your admin tools: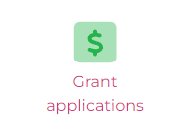 When you are completing the application, it is important you submit as much accurate information as possible. If you are having problems, please reach out to us.
Once your application has been successfully lodged with all the necessary paperwork, it will be considered at the next available grants meeting. Please note these are once every two weeks during term time.
If you need any assistance, or have any questions, please contact clubs@ucsa.org.nz.